Elizabeth Metcalfe is one of the best interior design firms in Canada. With more than two decades of existence, they're still creating a strong and beautiful signature style.
Passionate, committed and experienced, are some words that describe the award-winning Elizabeth Metcalfe studio. Full of personality, their designs focus on clean and geometrical lines but keeping the minimalism as a guide-line.

The core of their work is restraint, clarity, serenity, balance, and harmony. This, when allied to the client's needs and wishes, transform a simple ambiance into something refined and luxurious.
In every design project, Elizabeth Metcalfe finds the beauty of each space. It doesn't matter if the spaces are big or small, old or new, the important is to always look to the details and, finally, find the beauty in the room.
Elizabeth Metcalfe and her senior designers work together to get a beautiful final result where all the details matter. In fact, for the designer, the details are the most important element of each project, and they will reflect in every room, every corner its owner personality.
Starting this renovation project means a balance between honoring a century-old home's past and redefining it for a modern family's lifestyle. This balance is very delicate, but with care and respect, a sunlit and shadowy; classic and contemporary, makes a home resonate a beauty that was part of its original charm.
The formal Living Room combines modern silhouettes within a traditional envelope. It exudes luxury without being pretentious or unapproachable, with a mix of styles effortlessly relate to one another.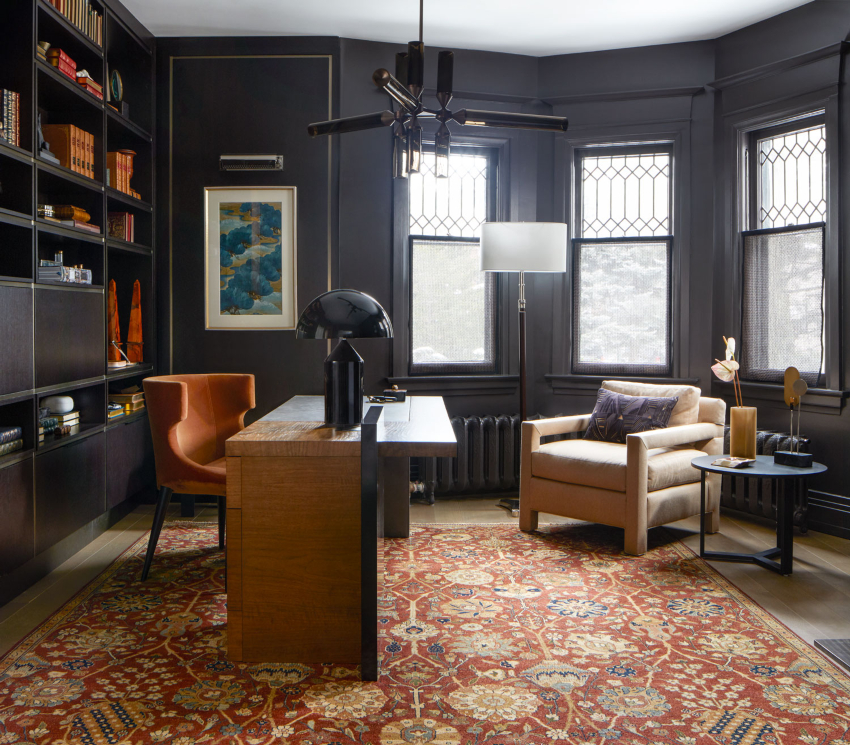 To contrast with this so feminine nature, Elizabeth Metcalfe decided that the office room should be masculine, using the vibrant palette of a traditional area rug that anchors contemporary furnishings, millwork, and lighting fixtures. Richly colored mohair, flannel, and horsehair are all traditional fibers, that add warmth and texture to modern frames.
A multi-layered plaster ceiling in the Dining Room is an unexpected strategy, bridging traditional features with modern elements. The custom marble dining table and minimal furnishings define this room.
This Forest Hill Century Home has a classic vibe. However, there's nothing old-fashioned about it. Elizabeth Metcalfe makes a harmonious blend of mid-century and contemporary design. Despite having some elements that we can call vintage, they fit into the mid-century modern design. This design project truly reflects its owners' comfort.