Picture yourself in the lap of luxury, where your every moment of repose is a testament to opulence and unmatched style. In a world where the marriage of comfort and creativity reigns supreme, a chair ceases to be just another piece of furniture; it emerges as an embodiment of lavishness and sophistication. Whether you're on the quest for the perfect throne to grace your contemporary living space or an exquisitely refined piece to enhance your surroundings, our meticulously curated selection of 50 luxury chairs is designed to satisfy the most discerning tastes. Explore an array of designs, materials, and styles that will not only elevate your sitting experience but also add an element of timeless elegance to your home.
From sleek and minimalist masterpieces to ornate and intricately crafted seats, each chair in our collection promises to make a lasting impression and transform your living spaces into showcases of luxury and artistry. Dive into the world of these exquisite chairs, where comfort, aesthetics, and craftsmanship converge to redefine the way you relax and appreciate the finer things in life.
50 Luxury Chairs
The Saboteur Dining Chair effortlessly infuses a touch of vintage noir cinematic charm into any contemporary dining setting, be it in a private residence or a commercial establishment. Crafted using the most exquisite materials, such as plush velvet and gleaming brass, this contemporary dining chair achieves a flawless fusion of opulence and coziness. Its sleek and uncluttered design makes it a versatile choice for a wide range of interior styles, from the understated simplicity of minimalism to the opulent richness of maximalism.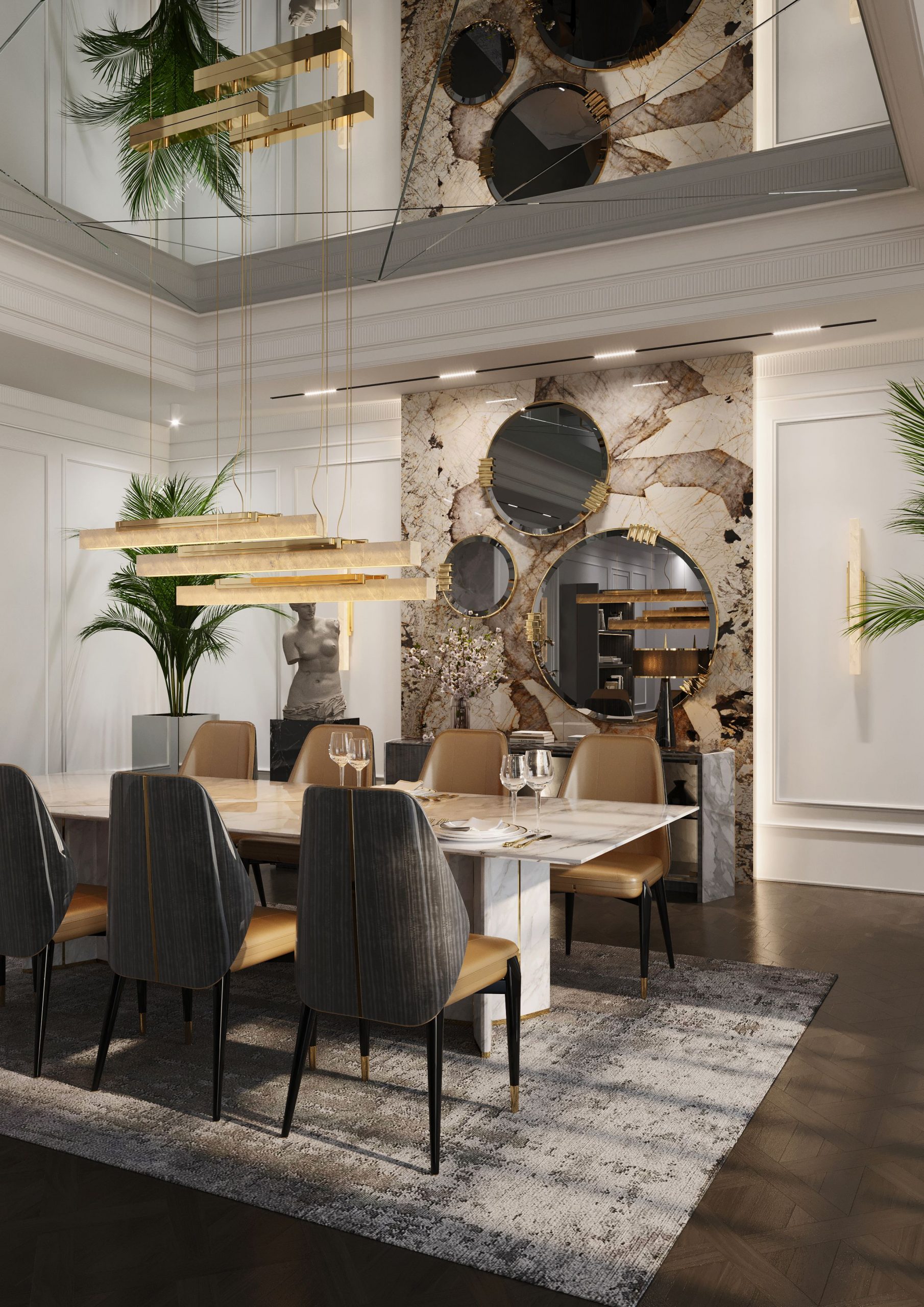 The Algerone Dining Chair has been meticulously crafted to serve as a versatile addition to any refined dining room space. Its structure is elegantly adorned in a tasteful grey synthetic leather, while the incorporation of brass and wood accents brings forth an essence of contemporary allure and enduring style.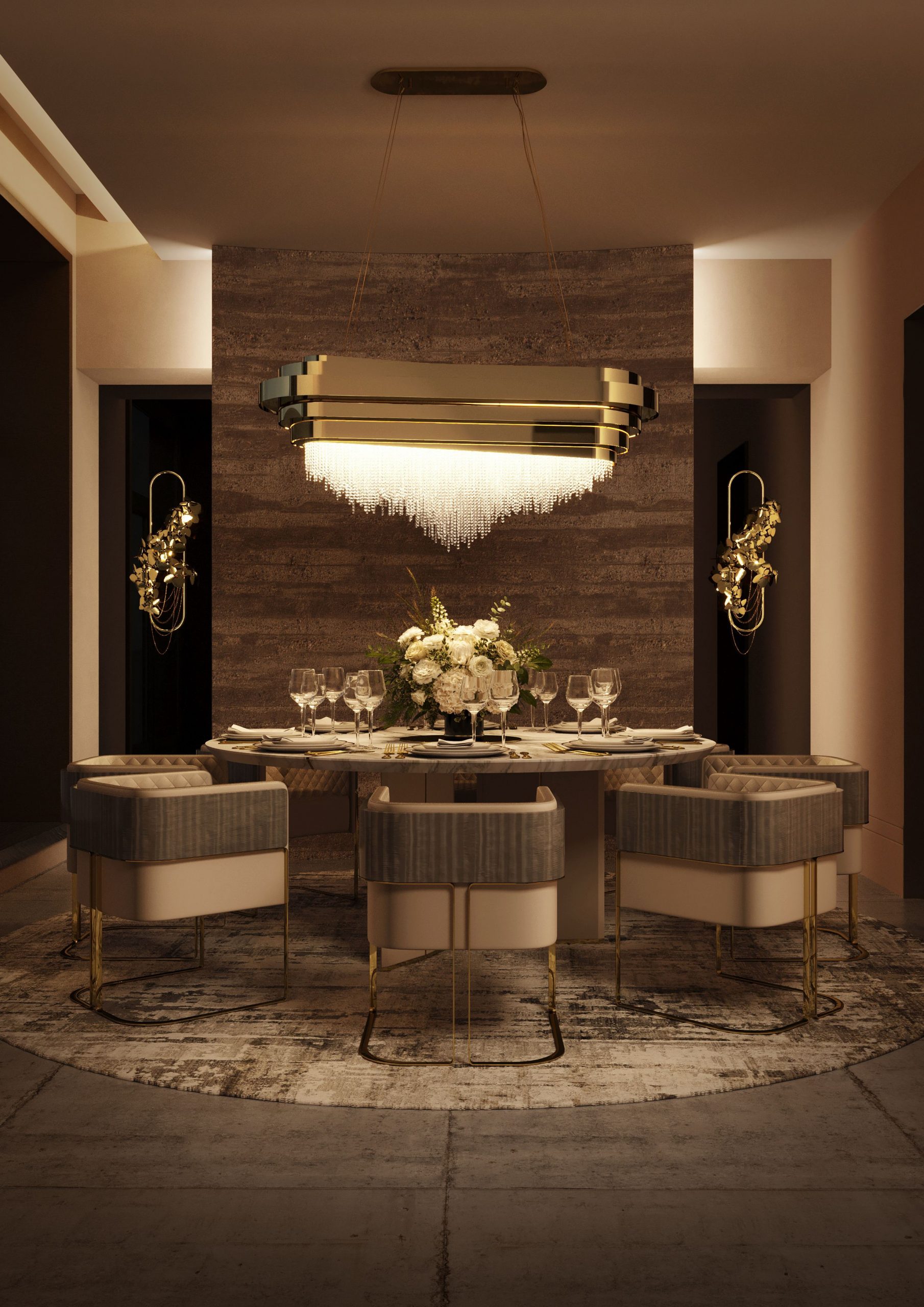 With its distinctively contoured backrest, the Nura Dining Chair embodies the epitome of comfortable opulence. Crafted in the form of a U-shape, Nura combines leather, brass, and wood elements to deliver an embracing comfort that is typically associated with upholstered seating of a similar configuration. This chair is a perfect choice for creating a cozy yet elegant ambiance in dining rooms and upscale restaurants alike.
The Charla II Swivel Dining Chair seamlessly combines refinement and sophistication. As another distinguished addition to LUXXU's repertoire, this chair distinguishes itself within the Charla collection through its armrest-free construction, smooth contours, and swiveling capability. It evokes a feeling of vintage glamour and classic interior aesthetics.
The Otto Swivel Dining Chair boasts a unique circular design, blending enduring style with exceptional comfort. Proudly joining the Otto upholstery collection, this dining chair elevates grand settings with its swiveling capability, creating a striking focal point.
The Charla Dining Chair is a magnificent and fashionable seating option exuding limitless grace. This exquisite chair exemplifies the fusion of timeless aesthetics with a contemporary flair through the skillful combination of opulent materials like velvet, brass, and lacquered wood.
With brass, leather, wood, and soft velvet, the Charla II Dining Chair exudes timeless elegance, making it the perfect addition to a luxurious dining room set. This chair combines luxury and comfort, becoming a standout piece in the Charla collection.
The outdoor Charla Grey Dining Chair is a magnificent piece exuding endless elegance. This exceptional design seamlessly blends timeless contours with a contemporary touch, crafted from a blend of luxurious and durable materials like stainless steel, powder coating, and synthetic rope mesh. It serves as an excellent option for those aiming to fashion a chic and comfortable outdoor dining space.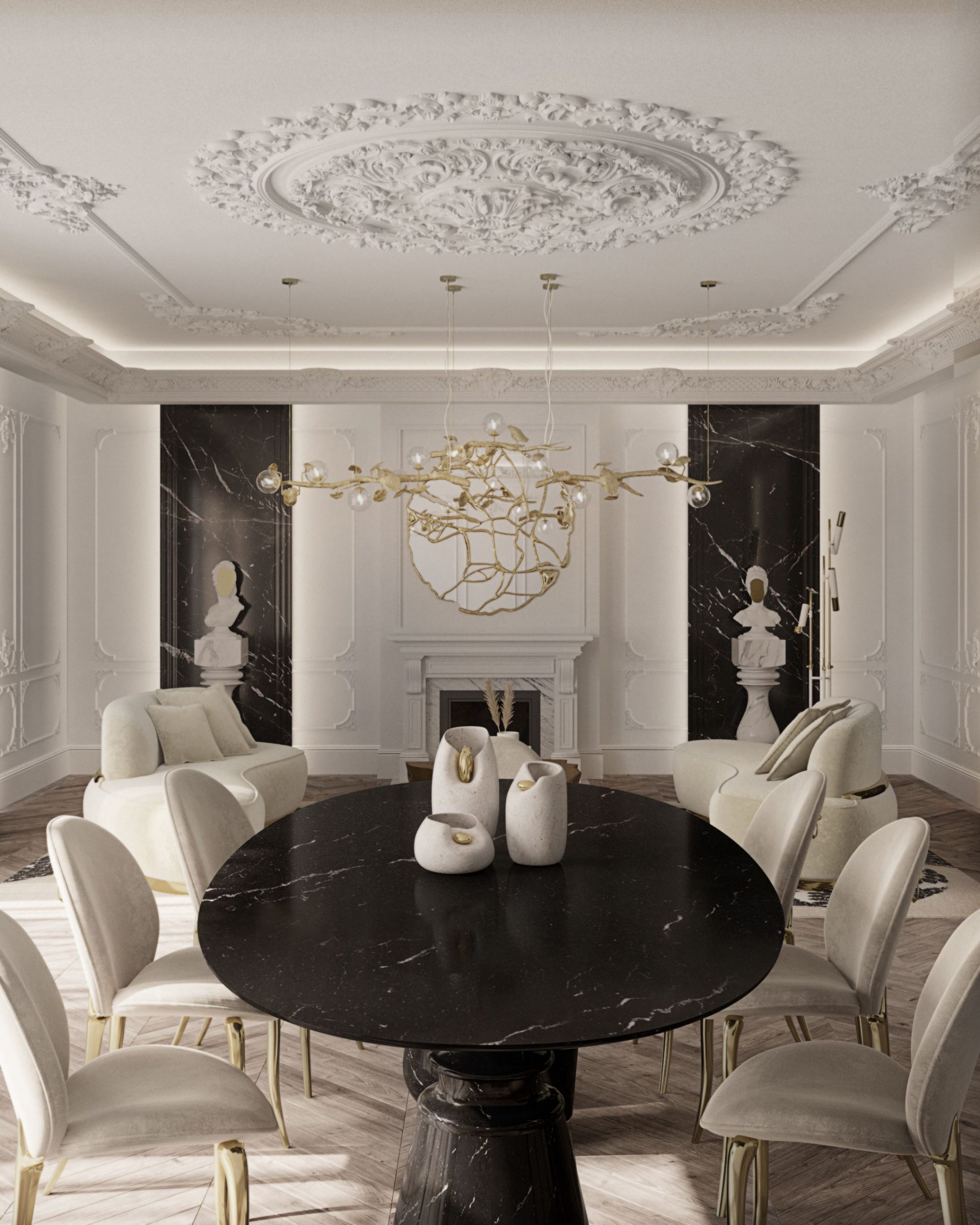 The Soleil Ascot Nata Chair is a fusion of various styles and sensations. Drawing inspiration from the essence and purpose of the renowned Cirque du Soleil, it aims to awaken, challenge, and arouse.
The Nº11 Chair, inspired by surrealist greats like Salvador Dali and René Magritte, reimagines their artistry into a captivating piece. Crafted from solid cast brass plated in gold, this accent chair features a generously curved backrest and legs that create a striking visual illusion. Upholstered in fine velvet, it's available in various colors to complement upscale dining or living rooms. Nº 11 fuses avant-garde design with iconic craftsmanship, making it a statement chair for enhancing glamorous settings and creating lasting memories.

Beyond furniture and its primary function, Boca do Lobo's designers push the object to new levels and blur boundaries. The team conceived this exclusive piece by questioning the notion of space, experimenting with material, and playing with color. A sense of fun and frivolity pervades the Emporium Fur Chair, but this exclusive piece also manages to be sophisticated, thought-provoking, and (above all) finely handcrafted.
Drawing inspiration from luminaries of surrealism such as Salvador Dali and René Magritte, the Nº11 Burgundy Chair transforms their artistic vision into a captivating furniture masterpiece. Constructed from solid cast brass with luxurious gold plating, this accent chair boasts an elegantly curved backrest and legs that craft a mesmerizing visual effect. Its opulent velvet upholstery comes in a range of colors to harmonize with upscale dining or living room decor. Nº 11 seamlessly melds avant-garde design with iconic craftsmanship, cementing its status as a statement chair, perfect for elevating glamorous settings and crafting indelible memories.
The Imperfectio Chair is a remarkable synthesis of artistry and utility, painstakingly crafted by the talented artisans at Boca do Lobo. Its striking design and captivating visual appeal strike an exquisite equilibrium between opulence and flaw, introducing an element of distinctiveness into any dining setting. Constructed from the highest quality materials, the Imperfectio Dining Chair displays a graceful combination of solid wood, brass embellishments, and lavish upholstery. Each chair possesses an unmistakable individuality and allure, making it genuinely unique.
CAYO Dining Chair draws its inspiration from the lush green landscapes and the stunning emerald sea surrounding Cayo Island. This contemporary dining chair is an ideal addition to any dining room arrangement, featuring lush green velvet upholstery and ash legs with a walnut stain varnish. It promises to take center stage in your modern, contemporary dining room decor.
Inspired by the green scenery and impressive green sea of Cayo Island, CAYO Modern Swivel Dining Chair came to life. Upholstered in green velvet and a swivel base in brushed aged brass matte, this modern swivel dining chair will look good in any modern contemporary dining room.
Tellus, the Roman goddess of the Earth, serves as the inspiration for TELLUS Dining Chair, embodying her divine essence. This high-back dining chair exudes elegance, thanks to its velvet fabric, nailhead trim, and back legs finished in matte lacquer. Its understated sophistication makes it a perfect addition to any contemporary dining room.
Nº20 Dining Chair, a symbol of wisdom and renewal, emerged after an extensive development process comprising 24 prototypes. This fully twill-upholstered dining chair showcases a delicate nailhead trim, introducing an element of refined elegance. With its robust and resolute design, this upholstered dining chair is bound to make a lasting impression.
Drawing inspiration from Cleopatra and her lavish, sophisticated furnishings, the DALYAN Dining Chair exudes an air of opulence. Cloaked in synthetic leather upholstery, this chair harmonizes feminine contours with understated hues, rendering it the perfect finishing touch for any modern mid-century design endeavor.
The STOLA Dining Chair derives its name from the attire of Ancient Roman women. Just as Roman women's garments symbolized elegance and resilience, this fully upholstered velvet dining chair, adorned with draped fabric on the inner backrest, will infuse your dining room with the same blend of grace and strength.
Ibis are beautiful birds known for their long slim legs and elegant poise. Just like the IBIS Dining Chair, an elegant seating solution. Upholstered in marron velvet upholstered dining chair has an aged brass nailhead trim and legs in ash with walnut stain matte varnish, making it be the focal point of any dining room set.
Taking inspiration from the interesting dialogues of the Bakaya people, whose word for 'listen' is oka, our designers created the OKA Dining Chair. This fully upholstered velvet dining chair amazes in its simplicity and will stand gracefully in a dining room set. This velvet upholstered dining chair has a unique and modern design that fits any type of design.
Hailing from Yemen, Moka coffee is famous for its intriguing subtlety, much like the Moka Dining Chair. This chair, with its understated yet elegant design, seamlessly complements a wide range of settings and can harmonize with countless styles, whether it's a contemporary project or a modern interior design – it strikes the perfect balance. Crafted from solid woods and vellutino fabrics, this minimalist design is a dining room essential.
Dunaway II Dining Chair is a modern dining chair with armrests that embodies the true spirit of the art deco style adapted to the modern lifestyle. Luxurious and extremely elegant, this beautiful dining chair features a more neutral allure with its cream velvet upholstery, polished brass details, and ash wood legs.
Dunaway Dining Chair is a modern dining chair with armrests that embodies the true spirit of the art deco style adapted to the modern lifestyle. Luxurious and extremely elegant, this beautiful dining chair features black velvet, polished brass details, and black lacquered legs with a gloss finish.
Lange Dining Chair is a modern curved dining chair with armrests that is both fashionable and comfortable and will complement any modern dining table. Lange features elegant materials such as luxurious cream velvet and polished brass details and positions itself as a staple in a dining room.
Designed to perform in a manner that indulges the eye with a mixed contemporary shape. Due to its velvet and super stylish open back, the Jones Dining Chair it's a colorful and classy dining chair that can easily fit any style you so wish. An upholstered dining chair that features a curved polished brass base, a design with both mid-century and contemporary elements.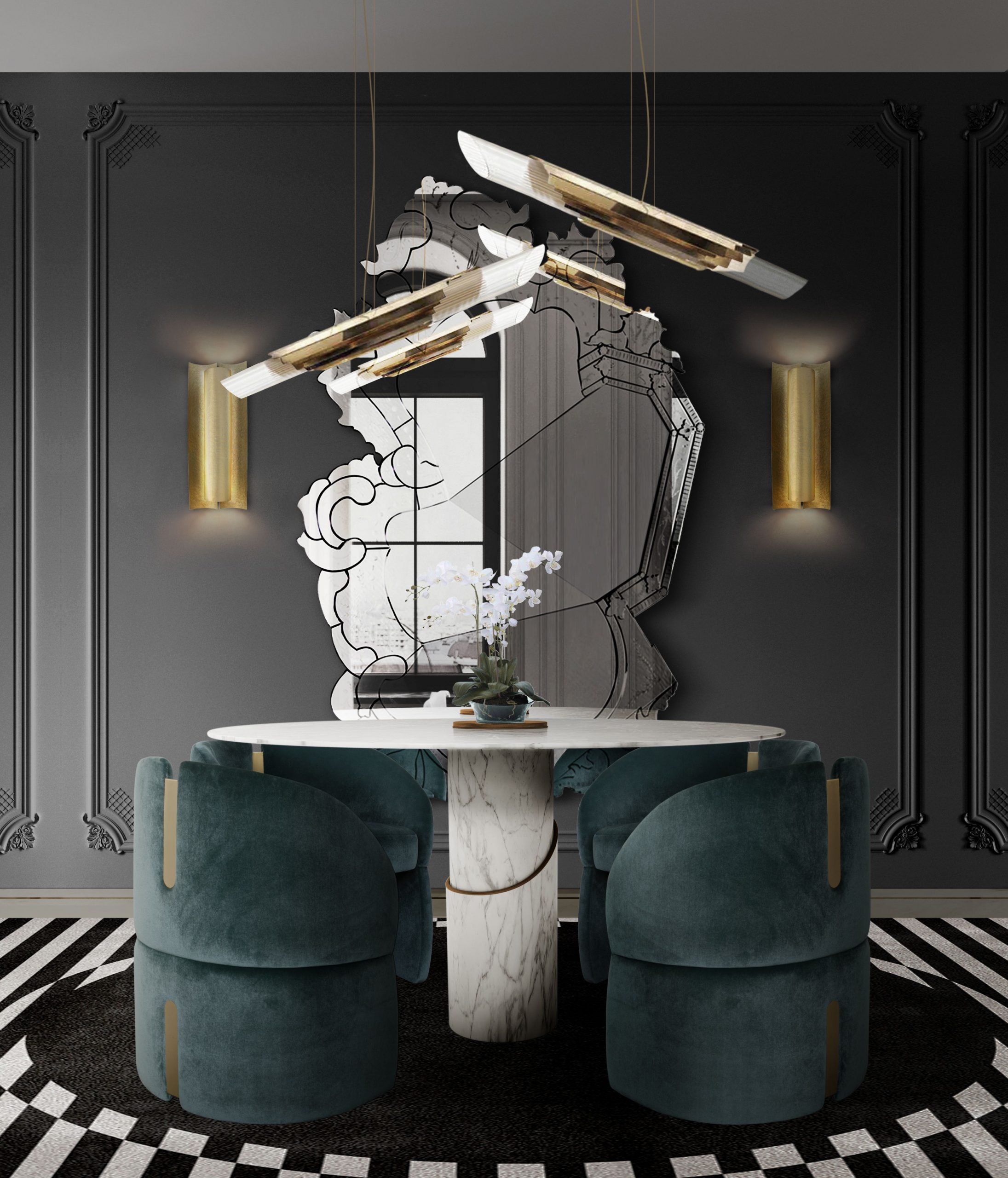 If you're looking for an artistic furniture piece to match your luxury design project with its own artistic personality, Isadora is the one. This bespoke dining chair by the Italian designers of Studiopepe, combines the best of luxury design with a modern twist, exactly what you need to bring an exquisite touch to your home décor.
Designed with a classic retro chic feel, comfortable and perfect to pair with a circular dining table. Finely upholstered in velvet, welted stitches on the seat, and a stylish degree reclining on the crescent open back. The Collins Dining Chair features a perfectly curved back, supported by tapered glossy black legs with rich accents of polished brass.
A fanciful dining chair full of luxurious features that will bring personality and uniqueness to your dining room. The Ellen Dining Chair is upholstered in velvet and has mixed tones both on the back and the round cushioned pad. Extremely sculptured, it contrasts with the slim legs made of polished brass.
Much like its counterparts in the Hadley family, the Hadley Dining Chair reflects the best of the 1930s midcentury style with a timeless and flawless design. Wooden legs and armrests pair wonderfully with a customizable fabric for the seat and a pattern on the back inspired by art deco and vintage style. This versatile piece is the perfect fit for a lounge or hotel lobby or even as an accent dining chair alongside its counterpart.
The high-end Henry Dining Chair design is based on the beauty of round shapes. The three-legged upholstered chairs are handmade in solid wood and with soft upholstery. It is the perfect way to add a modern twist to your interior room project while keeping things comfortable.
This mid-century piece is the ultimate chair for a luxurious dining room ready for a feast. Following the tradition of Essential Home's finest bestsellers, Marco is another piece that is handmade with the same luxurious elements as any other piece.
This beautiful piece is a tribute to the great Federico Fellini, one of the best Italian film directors and screenwriters known for his distinctive style, a mix of fantasy and baroque images with dreadfulness. The mid-century chair features edgy-shaped walnut wood legs creating a dynamic design with the L-shaped black lacquered frame. Its unique structure is elevated with some unique brass details found in the leg studs and caps.
Inspired by the six times Oscar nominee Deborah Kerr, the Kerr Dining Chair by Masquespacio embraces the leading role of this fun and modern product selection due to its innovative shapes and multiple customization options. When paired up with its secret lover (the Cary Table), the Kerr dining chair instantly gains another sense of glamour to your interior design project.
Inspired by the most famous occasional designs, a mid-century masterpiece and an homage to the modern living era. Perry Dining Chair is a durable and solid chair features a body structure produced in solid walnut wood. The seat and the back cushions are upholstered in leather, contrasting with metal shoes on their legs, made of polished brass.
Marie Dining Chair is an occasional chair that incorporates all of the mid-century modern elements into a contemporary vision. Features slim legs made of polished brass, a round pad upholstered with seductive velvet, and a round back. Due to its design, it can easily be used on any room of your home that you so please, looking always perfect due to its customization option.
The Russel Dining Chair is a mix of mid-century aesthetics with a contemporary twist. A round polished base and a timeless seductive velvet layered over a comfy foam frame on the top. Extremely sculptural, it features an open back and deep horizontal tufting, both on the seat and its back.
The Patterson Dining Chair was inspired by Neva Patterson's iconic role in the romantic "An Affair To Remember" movie. Shines on its own with its simplicity and exclusive attention to detail. Featuring some creative round shapes and luxurious metal details, this unique dining chair is one of the most versatile pieces that you will find.
Pecan Chair By Fendi Casa
The harmonious form that defines the Pecan chair by Atelier Oï is accentuated by the perfectly-pitched combination of materials, with jacquard fabrics and soft leather complementing the almost-severe aspect of the metal base. With its invitingly soft padding, the Pecan chair offers outstanding comfort and contained dimensions, making it ideal for cosy nooks, while able to command attention in larger spaces.
Equilibre d'Hermes Chair By Hermès
The Equilibre set by British designer Jasper Morrison exudes lightness and simplicity. On closer inspection, the shapes of these three objects prove to be more complex: a beveled tabletop, slanted legs, crisp corners on the outside that are rounded on the inside, slatted chair backs crafted from a single piece of wood, and seats with apertures in which a saddle-stitched leather pad fits perfectly for added comfort.

Hana Chair Un-Upholstered Set Of 2 By Moooi
The un-upholstered Hana Chair by Simone Bonanni, sold in sets of 2, combines timeless comfort and unparalleled distinction. Inspired by the unfurling of a flower, its unique design captivates with organic shapes, curved lines, and a petal-like backrest. Versatile and customizable, the Hana Chair effortlessly blends into your home.
Sendai Dining Chair By Minotti
Named after the city of trees, Sendai, this line of furnishing pieces consists of a small sofa, an armchair, a lounge armchair and dining and lounge little armchairs. Like slender trunks, the elegant, polished legs, in Canaletto walnut solid wood stained Light Brown, or Licorice lacquered ash, rest on the ground, lifting the enveloping upholstered body and creating a soft rhythm of vertical lines.
Locarno Dining Chair By Eichholtz
Soft fabric and superior padding ensure your comfort with the Locarno Dining Chair. Lightweight but sturdy and durable, the Locarno features finished black legs, rounded, flared armrests, and finished in Sisley beige textured upholstery. The medium-high open lower back is ideal for posture alignment, making the Locarno Dining Chair a wonderful comfort piece for the dining room.
Montera Chair By Poltrona Frau
The Montera series designed by Roberto Lazzeroni has a formal lightness that expresses the sensory charm of its materials: the raw cut processing exalts the tactility of the saddle-leather and leather which, combined together, complement each other perfectly; the light stitching on the backrest forms a smile. Montera is a chair, an armchair, a stool of two different heights, a column stool and a stackable chair.
7 Fauteil Tournant, Durable By Cassina
With sustainability in mind, the 7 Fauteil Tournant, Durable swivel armchair is made with circular materials. The innovative construction of the cushions introduces the use of recycled PET wadding and, for the foam parts, employs polyurethane with a percentage of polyols derived from biological sources. Since 2016, the armchair has undergone a major structural update that led to its being awarded Catas certifications.
Fat Dining Chair Wool By Tom Dixon
Designed to hug the body and allowing for multiple sitting positions, the Fat Dining Chair is upholstered in Wool. Fat is made from moulded foam with a metal leg launching in high gloss black lacquer and made to order upholstery. Manufactured in Europe, hand finished and upholstered by experienced craftsmen.
Thaden Dining Chair By Arteriors
Inspired by midcentury, Italian, ladder-back chair construction, the Thaden Dining Chair is reimagined with thoughtful details and soft, modern curves. The simple, yet elegant chair is crafted in ebony mango wood, with tapered legs, and with a natural linen seat. Recessed, antique brass capping details complete the piece.
Channeled Goldfinger Dining Chair By Jonathan Adler
Minimalist comfort gets a modernist makeover—we're taking our definition of leaned-back luxury to the next level with our Channeled Goldfinger Dining Chair in bold and glamorous burnt orange velvet. Ultra-comfy channeled cushions and plush armrests complement its perfect pitch on a pared-down polished brass frame. A little bit '70s, a lot today.
Beetle Dining Chair By Gubi
The veneer edition takes the organic, nature-inspired form of the original Beetle shell, and adapts it to accommodate the realities of working with veneer. The result translates the Beetle's distinctive curves into a molded wooden shell, giving the chair a new material aesthetic without compromising the comfort for which it has become renowned, and expanding the design's relevance to even more interior settings.
Robinson Chair By Liaigre
Created for the 60 meter sail boat the "Sea Hawk", the Robinson chair has soft curved lines of a boat whilst favoring authentic materials. Made in brushed oak, it combines the power of the sculpted wood, with the refinement of the upholstery. Its contoured seat has perfect ergonomics.  
What do you think of this selection of luxury chairs? 
SEE ALSO
50 Luxury Dining Tables For The Ultimate Dining Experience
//
What do you think? Did you like this article? Follow Covet House on Facebook, Instagram, Pinterest and Twitter, we are here to give you the best interior design inspiration for your design projects and, never forget, celebrate design with friends as we do!