A dining table transcends mere furniture; it serves as the very essence of the dining experience. Luxury dining tables elevate this notion to unprecedented heights, seamlessly blending masterful craftsmanship with innovative design to forge breathtaking masterpieces that redefine the concept of opulence. In this exclusive exploration, Covet House delves into the enchanting realm of luxury dining tables, peeling back the layers to reveal the intricate artistry and premium materials that render these pieces truly exceptional. Join us on this captivating journey as we uncover the essence of hosting and dining in the utmost style and sophistication.  
50 Luxury Dining Tables
Algerone is an imposing rectangular dining table inspired by sleek architectural elements. This classic piece showcases the strength and classic nature of Statuario marble, which is further enhanced by the presence of meticulously placed brass lines. 
Algerone is an opulent round dining table, It was designed to remind us of the unique strength and class that only marble has. The Carrara marble circular top is supported by a sleek base adorned with leather and polished brass detailing. A design that will redefine the way you perceive dining tables.  
Inspired by one of the most famous hotels in Las Vegas, the Bellagio Dining Table was designed as the perfect solution for every occasion. offers a luxurious blend of business and pleasure, featuring a robust structure and rectangular glass top.  
The Darian Dining Table gets its inspiration from the prodigious Darian Sideboard. This exquisitely handcrafted round table features a smoked glass top resting upon a wooden structure in black lacquer, adorned with polished brass bars.  
The Beyond Dining Table features distinctive details that delicately create a warm and golden tone. Created during a moment of inspiration, this modern luxury dining table serves as the perfect focal point for any dining setting.
Littus Oval Dining Table with a very strong style and sculptural features, has come to be recognized by its distinctive spiral. With the same quality signature of the collection, this oval table embodies handmade techniques by some of the best craftsmen.  
Apotheosis Dining Table is the glorification of design and innovation. The polished brass legs give an unusual and chic effect to this piece that supports a marble and wood top. This combination and design reflect the elevation of what is earthly to a godlike stature, it defines the creation of something that is perfect.  
Fortuna is a contemporary dining table with a one-of-a-kind design aesthetic and refined statement to the most influential minds. Representing the essence of empowerment, sophistication, and mysticism, the Fortuna features an exclusive gold brass surface for ground-breaking dining rooms.  
Like the first version of this unique piece, the Fortuna Round Dining Table has a unique design aesthetic in its contemporary style, representing the essence of power, sophistication and mysticism.  
The Empire Dining Table symbolizes generations of gatherings and decisions, both in times of celebration and tension. Its cracks rdeflect tough times, revealing a gold interior in a manifesto towards power. Flawless and bright, the remaining surface points towards a thriving future, reminding one to toast to prosperity.
The Pietra Dining Table, crafted from Nero Marquina black marble, combines function and sculptural form, creating a timeless experience. Its oval top is surrounded by three robust marble columns, each hand-sculpted from solid blocks for texture.
Extreme simplicity, contemporary and seductive power: these are the characteristics reflected in each detail that will make you fall in love at first glimpse. Bonsai relates to Boca do Lobo's tradition of furniture which is inseparably combined with the innovation and vanguard of contemporary art.
Newton is an outstanding moment of inspiration. A luxury statement piece created to fulfill the needs of those who are looking for the best in contemporary furniture design mixed up with luxurious details and high-quality materials.
The Heritage Dining Table, inspired by Portuguese history, is a sophisticated piece with a noble design featuring alternating polished brass, a bevelled mirror, azulejo strips, and a tempered glass top. Its noble lines reflect the finest elements of your dining room, adding warmth and finesse.
Like the rectangular version of this unique piece, The Empire Round Dining Table symbolizes generations of gatherings and decisions. The cracks in this unique piece reflect tough times, revealing a gold interior in a manifesto towards power.
Boca do Lobo's exclusive Patch Dining Table has an intricate wood veneer top and sculptural base for adding sophistication to any dining room. Patch table fits in a contemporary dining room or a sophisticated kitchen.
Playing with function and sculptural form, the Pietra Dining Table shapes a timeless experience through its classical aura and finest Nero Marquina black marble. The table is square, adding a touch of geometric elegance to its design.
The round version of Pietra, this unique table is a stunning rendition of classic elegance. Like the other versions, crafted from the finest Nero Marquina black marble the Pietra Round shapes a timeless experience through its classical aura.
Stonehenge Dining Table, positioned asymmetrically and composed of striking finishes and materials. This piece promises to elevate your dining space to the next level. The metallic hues make an elegant contrast while beautifully combined paying tribute to the Neolithic and Bronze Age.
The Royal is a real step forward for Boca do Lobo. Its hand-carved details of the intricate marquetry design and finishes are executed with amazing precision by our artisans. This extraordinary piece combines new design and architectural trends, but never forgetting the rich tradition of the past.
Metamorphosis Dining Table has come to symbolize the evolutionary history of life, representing the last stage of the cycle through the usage of sculpted fossils on display at the top of the table. A unique piece for those who have a peculiar taste for limited edition pieces and conceptual designs.

The Lapiaz Dining Table symbolizes generations of gatherings and decisions, both in times of celebration and tension. Like the Empire Dining Table, the cracks reflect tough times, revealing a gold interior in a manifesto toward power.
Like the other versions, the Pietra Dining Table shapes a timeless experience through its classical aura and finest Estremoz white marble. The oval top gently lies in two robust marble columns, each one conceived from solid blocks hand-sculpted and turned to create different details for additional texture.
Monument Valley, Arizona, is a stunning North American West landscape icon. Plateau is a unique contemporary rectangular dining table inspired by it, features a walnut root veneer top, matte varnish, and aged brass details.
Agra is the modest setting of one of the most famous monuments in the world, the Taj Mahal. Just like it, the AGRA Dining Table is an impressive display of craftsmanship and elegance. Made of Estremoz marble with polished gold details, this round marble dining table will add refined grace.
Bees, originally called "Apis" in Latin, were the main inspiration for APIS Dining Table II. It features a large tabletop in stained oak with brass details and a base in matte brass. The APIS Round Dining Table is sure to make an impression on your midcentury modern dining room decor.
Koi carp is a recurring symbol of Japanese culture. Its natural color mutations reveal its capacity to adapt, just like the KOI II Dining Table. Featuring a base in aged brass and a top in acrylic, this brass rectangular dining table will add refined elegance to any dining room design.
The Heel Stone is located to the north-east of Sarsen Circle, near the end of Stonehenge Avenue, a stone with a highly textured surface and an elemental carved shape, truly an inspiration for the Heel Stone Dining Table. The main element is a granite stone that adds luxurious details to an exquisite table.
The Patagon Round Dining Table culminates the inspiration for the entire Patagonian collection. The table's interesting and unique foot, with small globes representing each archipelago, glacier, land mass and city in the Patagonian region.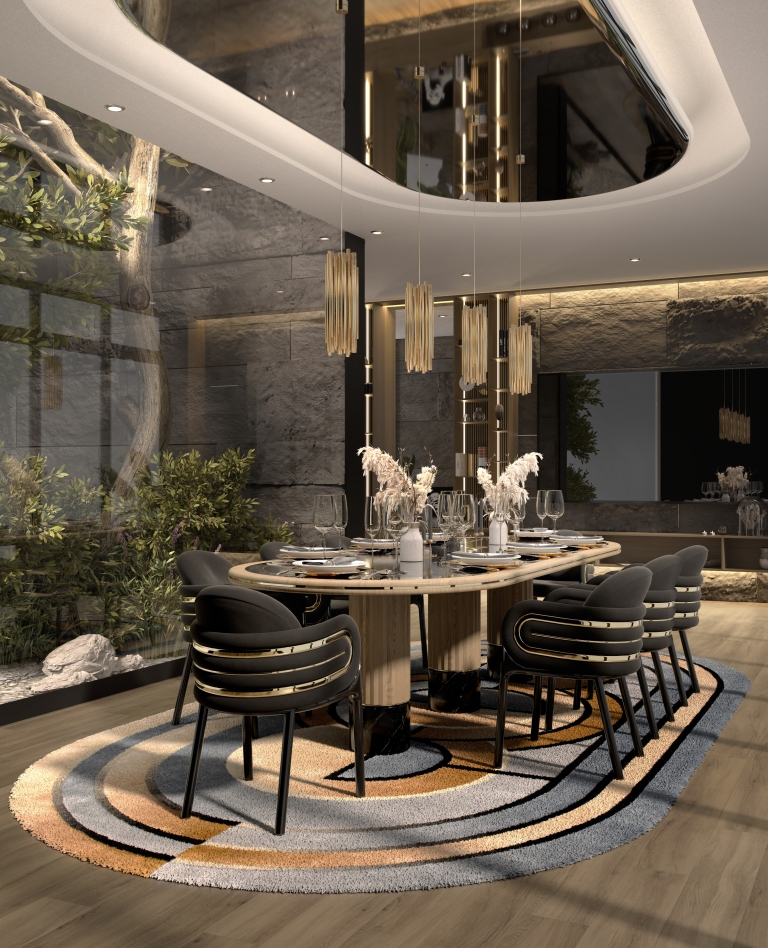 An oval dining table offers the length of a rectangular table without the hard corners and provides a little more floor space. The Anjelica Oval Dining Table is a modern oval dining table with an ash wood structure, a White Vogue Estremoz marble top and some elegant polished brass details.
Round dining tables add more space and flow to a dining room. The Anjelica Round Dining Table, like the oval version, is a modern round dining table. The combination of different materials in this unique table is what makes it so special and different.

Inspired by the natural beauty of Patagonia, the Grava Dining Table combines luxury materials and an exclusive design, making it the perfect dining table for creating memories with your family!
A perfect dining table for engineers, the Wormley Dining Table is a round table with a skillful structure made of tube rings, a hallmark of excellent metalwork, which supports a transparent glass on the top. It's a stunning piece that you won't be able to resist.
The Denning Dining Table, inspired by Richard Denning, goes beyond a supporting piece. Featuring a luxurious stone top and elegant metallic details, this Masquespacio design stands as a statement. It exudes trendy sophistication.
The Ezra Dining Table, a unique piece from Studiopepe's collection, is inspired by Italian architecture. Its blend of straight and curvilinear lines breaks design boundaries, making it a captivating and versatile addition to any contemporary setting.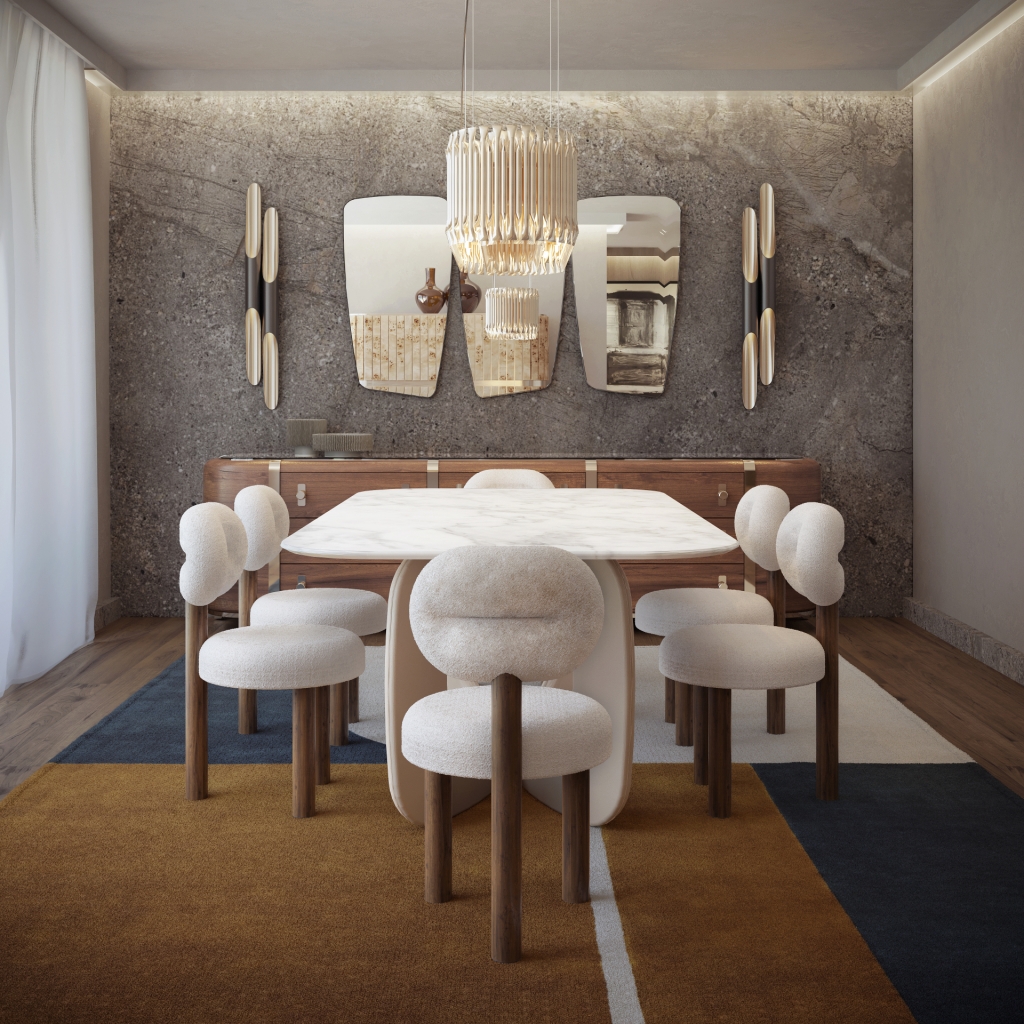 The Eero Dining Table is an elegant and minimalist piece of high-quality design that will be the jewel in the crown of your dining room. This mid-century dining table emphasises simple lines, organic curves and the use of natural materials such as marble and leather.
The Vinicius Dining Table's solid marble structure makes for a strong presence in any dining room. Inspired by a curvy hourglass shape, its stunning design is modern and elegant, with a refined touch in the details.
The Alberto Dining Table is reminiscent of Oscar Niemeyer's architectural shapes, with curvilinear wooden legs that elegantly blend with the round corners of its marble top. A modernist masterpiece, fusing art and design flawlessly.
The Maxime Dining Table is a tribute to the legendary Parisian bistro owned by Pierre Cardin in the 1980s. Made of solid wood and metal details, with a sleek glass top, it exudes sophistication and vibrancy, reminiscent of its rich history and glamorous clientele.
A modern dining table with a capacity for eight people, Bertoia is a majestic statement piece for any dining room. Refined solid marble, enhanced by a metal ring on the countertop and curated trendy materials, is a stunning homage to design.
Caffe Latte
The dining table is a harmonious blend of natural beauty and refined luxury. Crafted from warm, rich wood, it exudes a sense of rustic charm and durability, while its white marble top adds an element of timeless sophistication.

Breve is a strong espresso-based drink mixed with half-and-half steamed milk. So, just like the exciting drink, this oval dining table serves up the same amount of glamour and flavour as any dining setting. The Breve Oval Dining Table gives your dining room a richer and even more glamorous look.
Dedalo Dining Table By Fendi Casa
A restyling of the iconic table created for Design Miami 2014, Dedalo casts a hypnotic-like effect with its intermingling base frames of steel squared tubes in contrasting finishes, creating the idea of a labyrinth in which you could easily lose yourself.
Arched Dining Table By Fendi Casa
A generously-proportioned round dining table with a monolithic structure, crafted from a single block of marble. The base forms a series of arches, interpreting the classic Fendi symbol as a modular sequence resembling the letters A and V.
Ford Dining Table By Fendi Casa
The Ford Dining Table brings together classic elements and unconventional, modern architecture. The top, available in both round and rectangular versions, sits upon asymmetric steel legs that have been folded and cut by hand to create a bold, eye-catching effect.
Linha Fina Dining Table By Minotti
A stimulating design challenge has led to the evolution of the Linha Dining Table, designed by Marcio Kogan / studio mk27, giving rise to Linha Fina. Lightness and sophistication are the main characteristics of Linha Fina: a table with a spatial configuration that makes it perfect for dining areas.
Brady Round Dining Table By Minotti
A family of dining tables whose essential shape is skilfully expressed in the harmonious dialogue between the veins of the marble tops and the rounded support that holds them. The surfaces of the tops, enriched by the natural grooves and the power of the marble, give this family of tables a unique value.
Superquadra Dining Table By Minotti
The Superquadra table, with its minimalist rectangular design, seamlessly transitions between home and office environments. It adds a touch of stylish sophistication to high-level meetings and boardrooms.
Comore Dining Table Roberto Cavalli
The absolute protagonist of the dining space, Comore is a scenographic table with a contemporary appeal, created through a complex process of craftsmanship of the porcelain stoneware. The inserts in gold metal create a geometric decorative design that enhances and embellishes the whole.
Sioraf Dining Table By Roberto Cavalli
A spectacular dining table with a high artistic value and a strong artisan component. Sioraf is characterized by the presence of an elegant base made of cast brass, hand chiselled by an expert craftsman and gold-plated, whose design recalls the typical giraffe pattern of the brand.